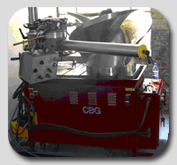 A galled hydraulic fitting was removed in our shop on this 850 lb. one-piece impeller. The job took 5 hours to complete after the customer had spent three days trying to remove it using conventional methods.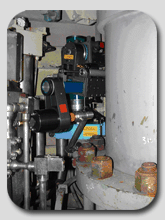 In response to an emergency call, a broken bolt was removed on a submarine. The bolt was recessed in a blind hole. Our process saved our customer two weeks of costly down time.
Portable metal disintegrator was used to remove a broken blower bolt on a diesel engine which allowed our customer to have the engine back in service with minimal down time.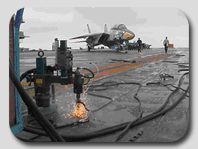 The portable metal disintegrator was used to remove over 500 flush mounted bolts on the flight deck of an aircraft carrier. This project saved many hours of costly welding, drilling and tapping of new holes.